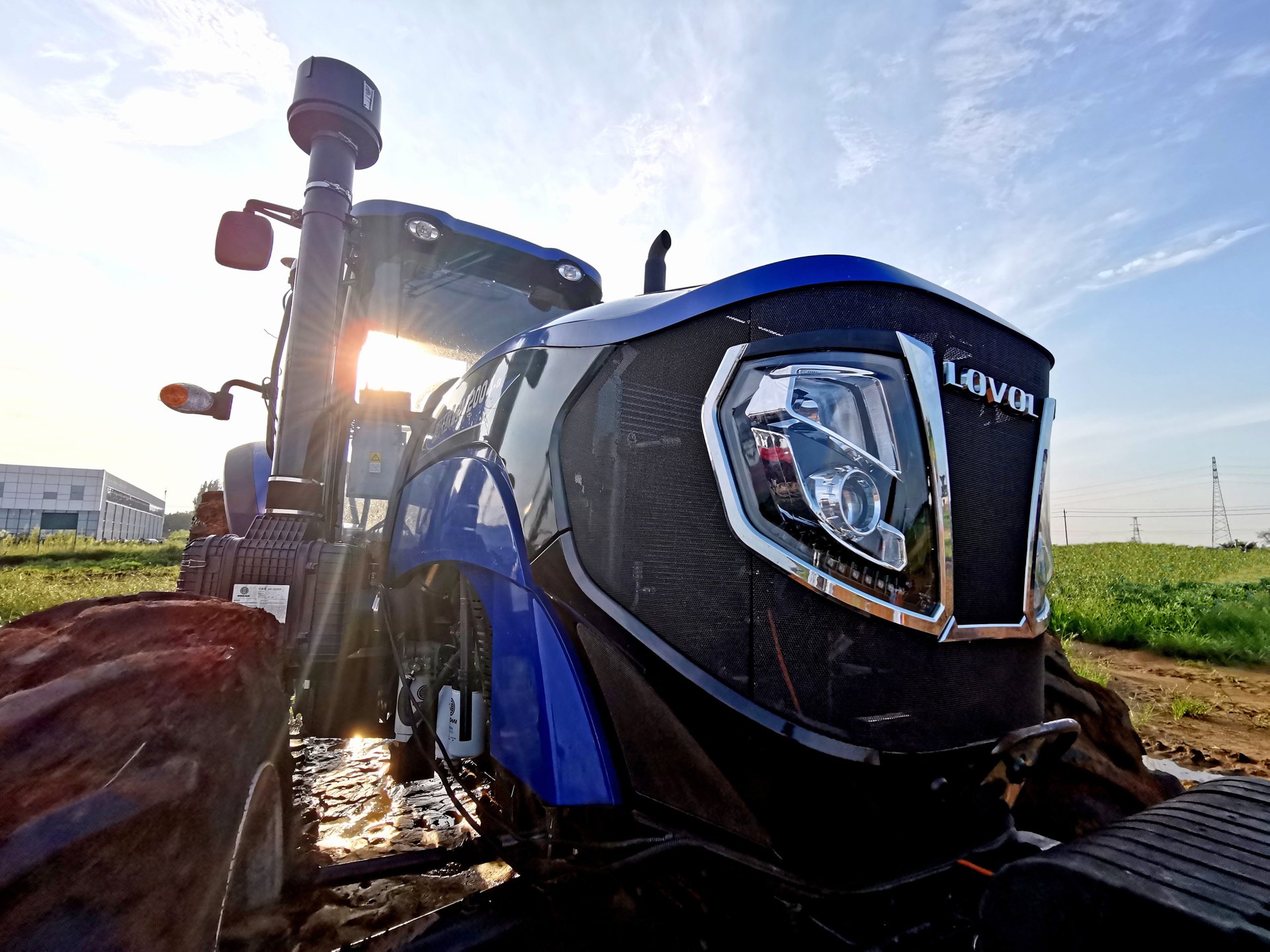 THE MOST ROBUST TRACTORS ON THE MARKET
Unique 10-year warranty in the industry
Starting at $18,174
Promotion: Get a free front loader with the purchase of a ROPS or cab tractor (a $6600 value). Does not apply on the basic models.
The most equipped tractors: A value over $15,000 added by tractor. See the Plus-Value section.
About LOVOL
CMI (Canada Motor Inc.), a company created in 2004 and located in Quebec, is the exclusive supplier of LOVOL products in Canada. Founded in 1998, LOVOL has grown spectaculary become a world leader in agricultural equipment, construction machinery and other light-duty vehicles. Each year, LOVOL supplies 100,000 tractors, 50,000 harvesters and 120,000 engines in its distribution network covering 120 countries. Its turnover is estimated at $ 4.2 billions ($CAN) and the company employs more than 15,000 people. To know more about LOVOL, watch this video:
Why choose LOVOL?
The LOVOL compact tractors (available from 25 to 55 hp) are the only tractors on the market to offer a limited 10-year warranty. They are the most equipped (refer to the Plus-Value section) and the most robust in the industry. Highly versatile, efficient and comfortable, LOVOL tractors have no electronic components. They are usually used for:
Agriculture and livestock farm work

Snow removal

Lawn mowing

Gardening and lawn sowing

Fence building

Other tasks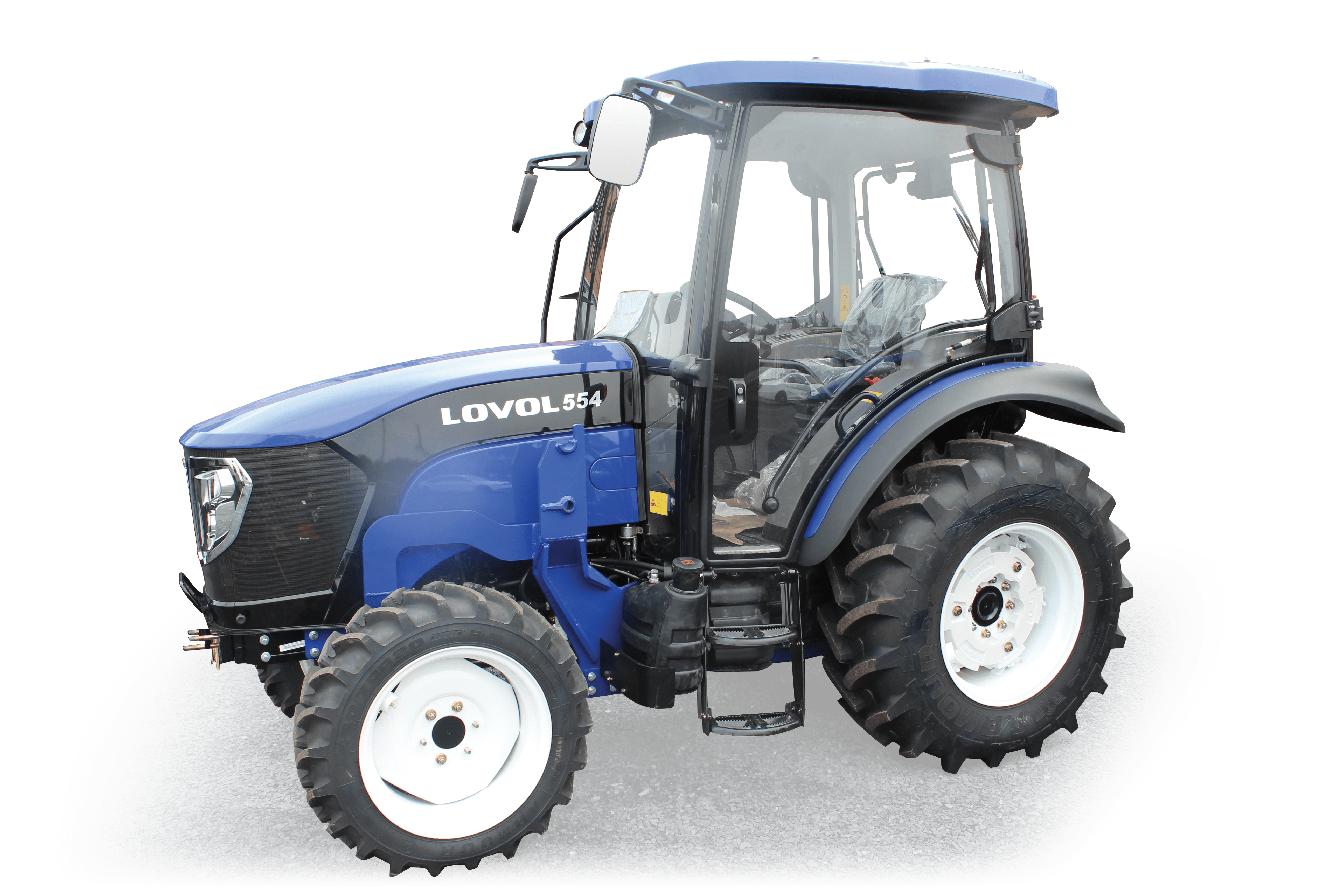 LOVOL tractors TB 554
Starting at $ 34,675 (ROPS model with loader)
The LOVOL tractor TB 554 meets the durability and reliability requirements that you are looking for to perform a broad range of tasks.
Shibaura Engine A4K41T - Diesel 4-cylinders (55 HP)
Hydraulic pump flow: 9,3 pgm
Rated PTO Power: 57,7/46,8 HP/KW
Dimensions: 163" x 74" x 105" ROPS version / 163" x 74" x 111" cabin version (L x l x h)
Weight: 5115 lbs ROPS version / 5567 lbs cabin version
Maximum speed: 40 km/h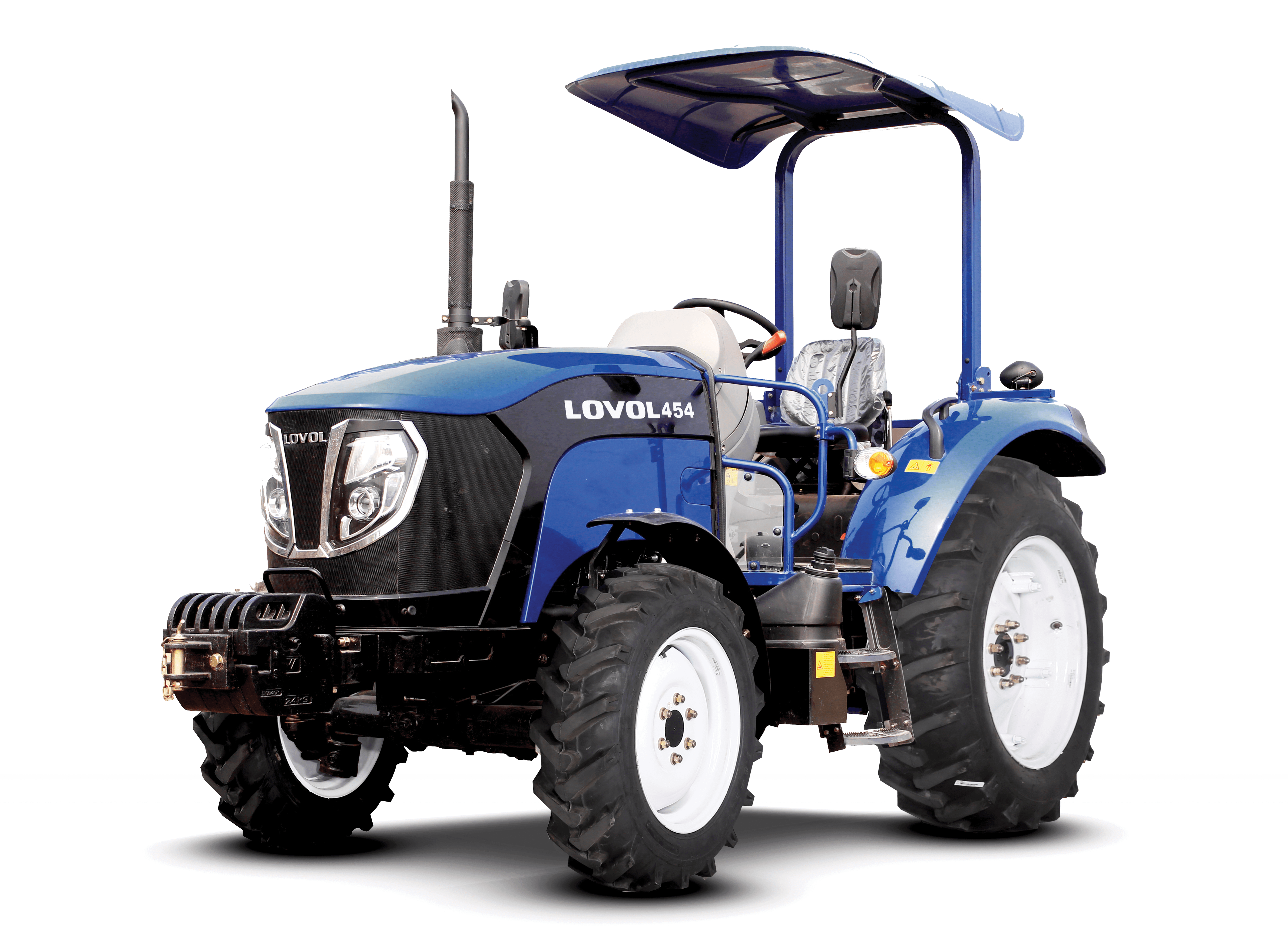 LOVOL tractors TB 454
Starting at $ 26,675 (Basic model)
TB 454 tractors like all the other LOVOL brand tractors TB are very robust and they have no electronic components. It will be your ideal working partner!
Shibaura Engine - Diesel 4-cylinders (45 HP)
Rated PTO Power: 48,3/38,2 hp/kw
Hydraulic pump flow: 9,3 pgm
Dimensions: 163" x 74" x 105" ROPS version / 163" x 74" x 111" cabin version (L x l x h)
Weight: 5115 lbs ROPS version / 5567 lbs cabin version
Maximum speed: 40 km/h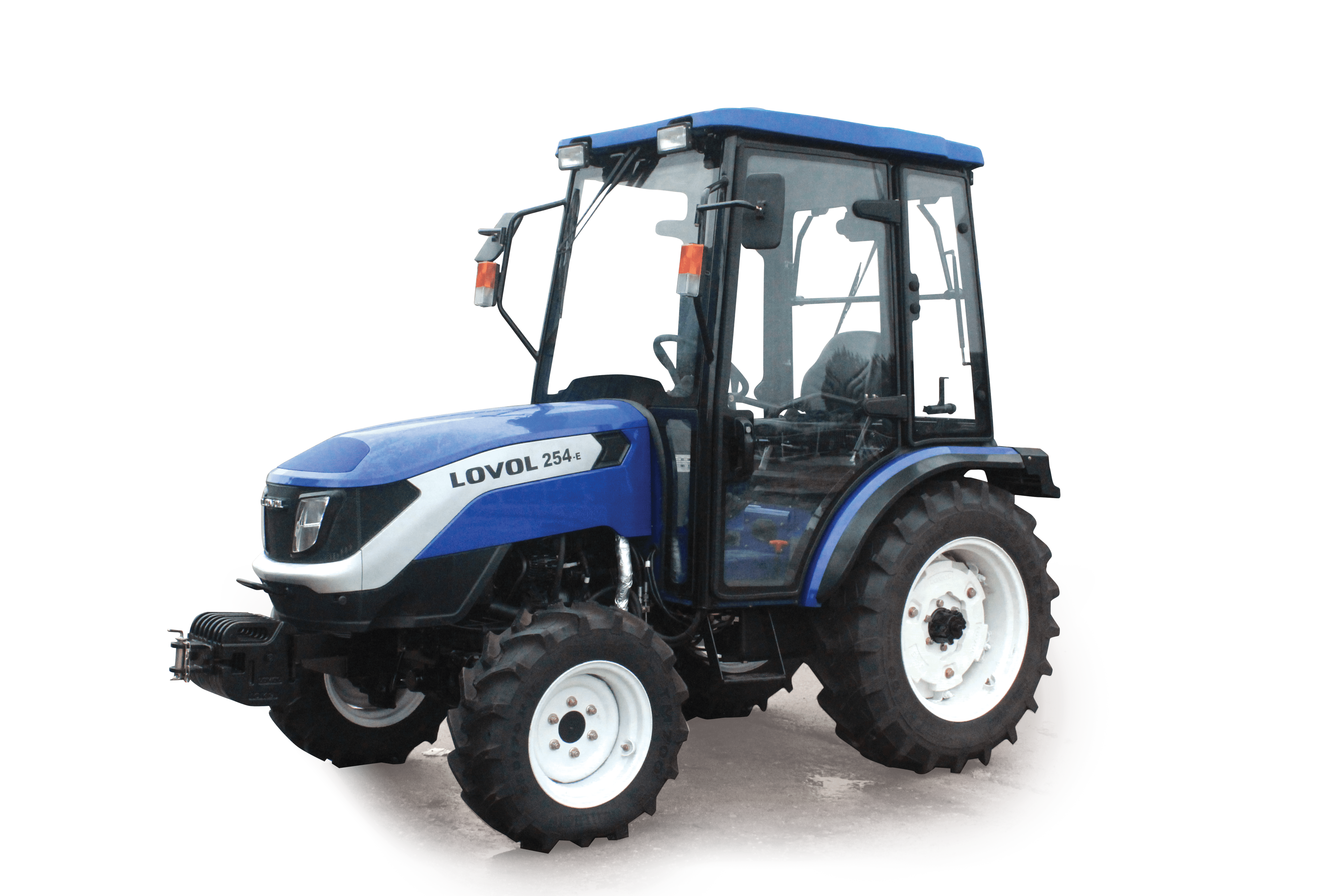 LOVOL tractors TE 254
Starting at $ 18,174
The LOVOL tractor TE 254 are designed to perform on agricultural work or other tasks when you need an efficient and reliable tractor.
Shibaura Engine KM 385 - Diesel 3-cylinders
Rated PTO power: 25,5/20 hp/kw
Hydraulic pump flow: 8,5 gpm
Dimensions: 136" x 60" x 94" ROPS version / 136" x 59" x 92" cabine version
Weight: 2700 lbs ROPS version / 3086 lbs CAB version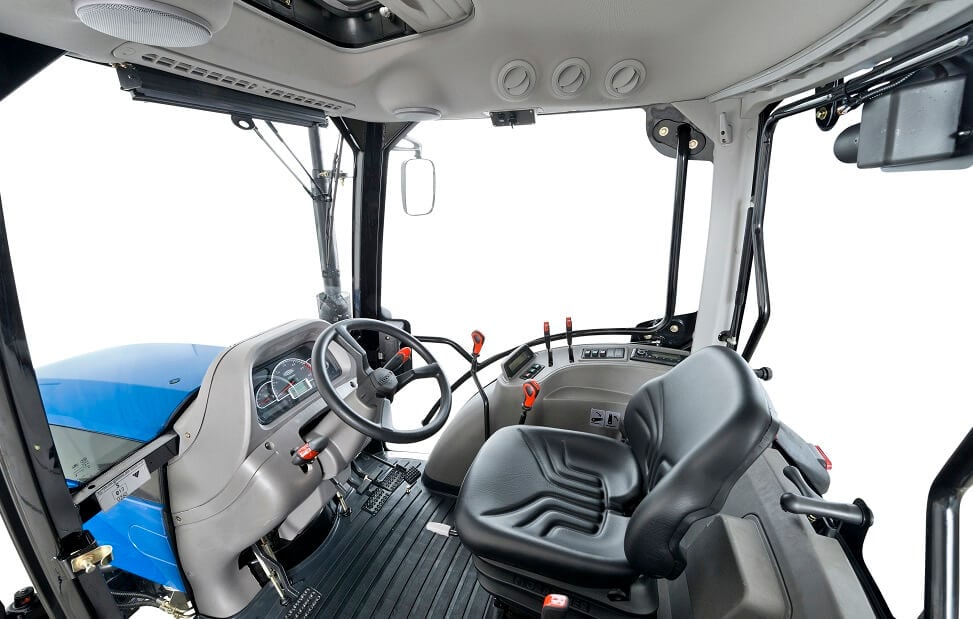 Luxurious and comfortable cabin
LOVOL tractors have an optional closed, ergonomic and fully glazed cab. You will appreciate the comfortable and adjustable deluxe Grammer seat.
Air conditioner and sunroof window
Build-design to prevent dust from entering inside the cabin
Doors opening wide for easy entry and exit
Adjustable steering wheel
Standard AM/FM/USB/AUX radio
Sun visor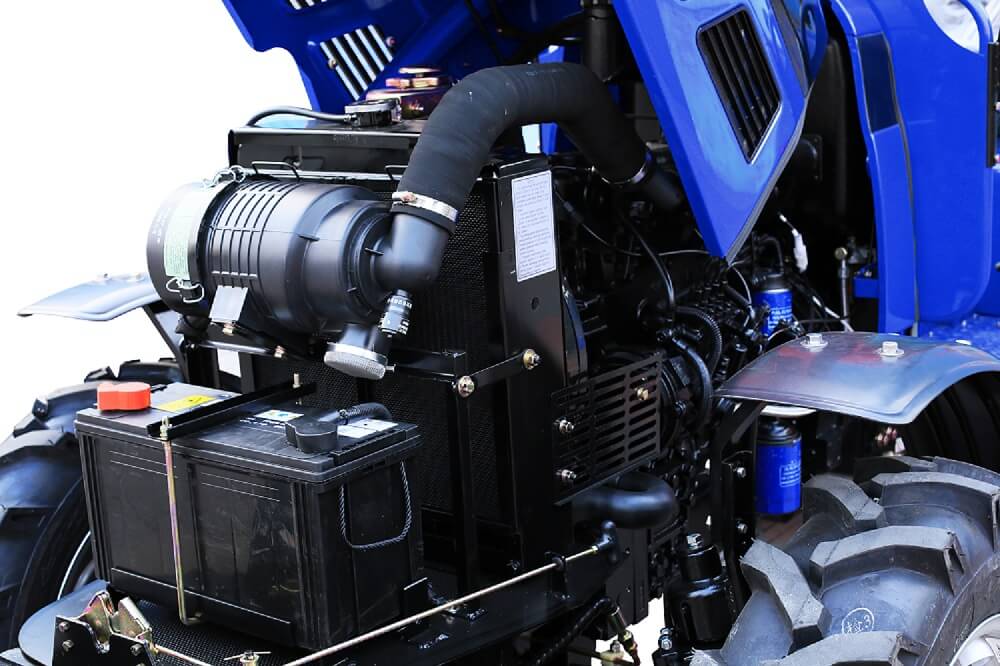 Robust and reliable engine
LOVOL tractor is characterized by its proven and well-built mechanical components.
3-or 4-cylinder engine
Synchronized gearbox for smoother operation
High torque engine designed for reliability and power
Rigid, high-strength cylinders to perform the most labour-intensive tasks
High torque reserve
High pressure lubrication system
LOVOL TRACTORS SPECIFICATIONS
8+8 or 12+12 synchronized gearbox
Reliable,high performance front axle
Strong, durable rear axle
Flexible and resistant structure
READY FOR ALL TYPES OF WORKS
No task is impossible for the LOVOL tractors. They can be equipped with a wide variety of equipment to handle any challenge!
LOVOL EQUIPMENT
Front loader with bucket
LOVOL Canada makes it possible for its customer the add a front loader with bucket to their tractor. Two models are available:
TZ02D - For TE 25 hp model: 0,18 m3 bucket with 200 kg (441 lbs) loading capacity
TZ04D - For TB 45 and 55 hp model: 0,21 m3 bucket with 400 kg (882 lbs) loading capacity
Various loader equipment attachments can be installed: most of them can be fit and removed in less than a minute, without any tool.
Backhoe
The backhoe (HW03 for the TE model and HW05 for the TB model) was specifically designed for LOVOL tractor models. The backhoe is ideal for excavating, digging and filling operations. With its quick change gasket seal, any person can install or remove it within 5 minutes!
LOVOL
PLUS-VALUE
LOVOL tractors are the most equipped on the market. By choosing a LOVOL product, you get more than $15,000 in value including:
10-year warranty (value of $3000)

Free front loader with bucket - with the purchase of a ROPS or Cabin Model (value of $ 6600). Basic models excluded.

Skid-Steer loader quick attachment system (SSQA)

First class heavy-duty agricultural hydraulic system in 3 points

Front oil outlet - 3rd function (value of $1500)

2 standard rear hydraulic outlets (value of $2000)

Tractor weight greater than competition, providing better traction

Japanese-made Shibaura engine

Diesel engine without regeneration (no DEF)

Front bumper on TB models only (value of $300)

Ceramic clutch for heavy-duty work to avoid conventional clutch slippage

Standard intercooler for better performance (on 55 HP model only)

Standard agricultural radial tires - better traction and smoother ride (value of $1000)

Valve protector to limit punctures (value of $350)

Wheel weights in the rear tires for better traction (value of $400)

Sturdy front axle for heavy-duty work

Straight rear axle with adjustable extension to meet the needs of various driveability and stabilization applications. Provides 10 inches of additional width (TB models only)

800 CCA battery for better starting in cold conditions (value of $100)
Sunroof on TB models only (value of $350)
Renowned Grammer seat for ultimate comfort (value of $500)

Front and rear wipers (value of $250)

Standard AM/FM/USB/AUX radio on TB models only (value of $150)

Sun visor to improve visibility and safety (value of $100)

Air conditioning on TB models only (value of $1000)

Maintenance kit for the hydraulic system including replacement parts (TB models only)
Parts manual to make spare parts ordering easier
A tool kit set for performing minor repairs and maintenance by yourself
Become a dealer
We are off on an adventure, are you on board?
Your ride to becoming an authorized LOVOL Canada dealer starts right here. We are looking for people who are passionate, ready to face challenges and with good knowledge of the agricultural sector. By joining our team to develop the LOVOL brand, you will be offered the opportunity to diversify your product range, expand your customer base and acquire new markets.
Ready for action?
Our team is looking forward to building a strong partnership with you and make LOVOL aim for new heights! Find out about our complete and very competitive business offer.
New-Brunswick
Nova Scotia
Prince Edward Island
Manitoba
Quebec
Any question? Do not hesitate to contact the LOVOL Canada team!
© 2020 lovolagriculture.ca